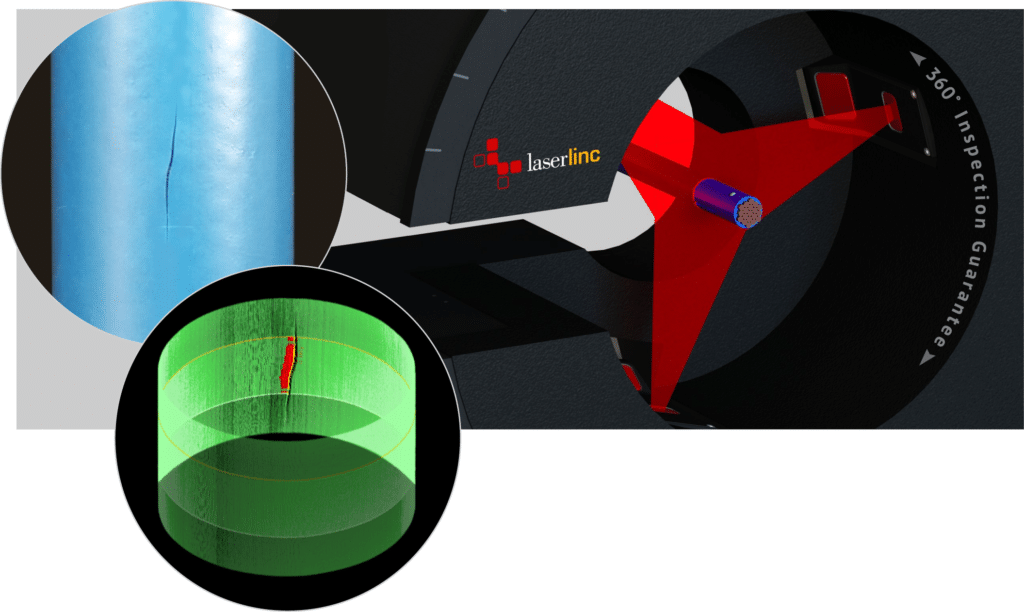 LaserLinc Showcases Innovative Surface Flaw Detection and Multi-Strand Measurement Solutions at Interwire 2023
Latest advances offer numerous advantages and significant value to wire and cable manufacturers
Fairborn, OH, February 28, 2023 – LaserLinc is set to showcase its latest measurement and process control solutions at Interwire (booth #1604), featuring open, scalable, and adaptable technologies designed to optimize processes and product quality. The US-owned company has been serving the wire and cable industry for over 25 years with in-process and off-line measurement systems.
LaserLinc's high-performance laser- and ultrasonic-based measurement technologies accurately and reliably measure wire and cable diameter, ovality, insulation thickness, eccentricity, profile, and surface fl flaws.
LaserLinc will be highlighting its unique FlawSense system, an innovative and accurate solution for surface flaw detection. FlawSense offers true 360° in-process inspection and 3D analysis, providing precise detection of surface defects such as lumps, gels, pits, slits, and other flaws that conventional vision and camera systems, laser micrometers, and lump-neckdown detectors cannot detect or unable to do so reliably. And it offers significant advantages over manual inspection. The system also delivers accurate outer diameter and ovality measurements and provides traceability for eliminating out-of-specification products.
---
Spotlight on FlawSense: As part of the conference sessions, LaserLinc's Product Manager, Chad Walker, will be giving a technical paper presentation on "The Surface Flaw Detection Paradigm Shift: Multi-Axis to 360°." The presentation is scheduled for the afternoon session on Tuesday, May 9, 2023.
---
LaserLinc also introduces its unique Multi-Strand solution. This software option for LaserLinc's Total Vu HMI enables you to simultaneously measure multi-axis diameter and ovality across multiple, continuous wire and fiber optic strands with 100% length inspection and flaw detection. With Multi-Strand you can assign over 100 different strands, significantly reducing measurement hardware costs. Each strand is uniquely identified by Total Vu for data collection, control, and alarming. Total Vu also profiles the location of each strand, allowing you to minimize product change-over time.
Manufacturers greatly benefit from LaserLinc's Total Vu HMI for process visualization. This open, adaptable architecture software enables LaserLinc gauges, as well as those from other vendors, to be connected for comprehensive product and process monitoring, display, control, and reporting.
LaserLinc's latest THHN ultrasonic system accurately measures the insulation layers on THHN (PVC inner insulation, nylon sheathing) tandem and co-extrusion cable lines.
Other notable brands on display include:
Triton™ triple-axis and Axion™ dual-axis series laser micrometers for diameter and ovality
BenchLinc™ series of off-line sample inspection systems. BenchLinc OD provides precise, automated measurements of diameter and ovality for small, high-specification parts. Precision gauging applications include fine wire and drawn wire products. BenchLinc V includes a V-block that enables fast, easy sample part positioning for dependable, accurate diameter measurements. Measure up to five unique features on each part.
Central to LaserLinc's solutions offer and success is its people. The company's highly skilled and experienced applications and support teams place the highest priority on providing the greatest possible service to wire and cable customers. This level of customer care is backed by an industry-leading 4-yr warranty on products manufactured at the LaserLinc factory.