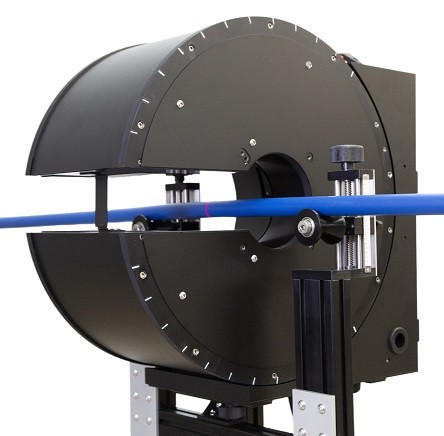 New FlawSense System Revolutionizes On-Line Dimensional Surface Flaw Detection of High-Value Products
Fairborn, OH, December 8, 2022 – LaserLinc is a leader in open, scalable measurement and process control solutions that adapt to the way you work. Over the years, the company has delivered a number of in-process and off-line gauging innovations to the marketplace that have enabled manufacturers to realize significant production and quality advantages. The new FlawSense dimensional surface flaw detection system is another example of the company's forward-looking and innovative spirit.
FlawSense is a revolutionary solution that redefines surface flaw detection. It uses high-speed laser line triangulation to truly perform 360° in-process inspection of wire, cable, pipe, and tube products — regardless of product orientation in the measurement field. FlawSense precisely detects lumps, gels, pits, slits, and other surface defects that conventional laser micrometers, lump and neckdown detectors, and camera-based systems cannot. Manufacturing personnel can review the defects later in 3D for deeper, immersive analysis.
"FlawSense is not a laser micrometer. It is not a camera or vision system. And, it's not a lump and neckdown detector. Although it can perform the same functions as these technologies," says Chad Walker, Product Manager at LaserLinc. "Instead, FlawSense is a high-performance inspection system that uses the most advanced laser triangulation technology. And, it is significantly more accurate and capable than conventional inspection systems."
Traditionally, manufacturers have attempted to use a variety of measurement techniques to detect flaws, but these have presented numerous problems due to a variety of reasons: the limited measurement points per sensor, inability to measure the full contour of the product, presence of text and labels that create false positives, and blind spots that prevent the detection of pits and slits in the surface. In most cases, these systems offer limited visualization capabilities, making it difficult to verify what was detected.
FlawSense, on the other hand, digitizes thousands of individual measurement points around the contour of the product to reveal the smallest surface anomalies. FlawSense then produces a 3D point cloud image rich with informative, actionable flaw data that can be manipulated for further analysis. FlawSense can detect surface defects down to 5 microns with 10 times better resolution than camera-based systems. FlawSense also provides significantly more accurate measurements of product diameter and ovality than laser micrometers and camera vision technology.
In summary, FlawSense helps manufacturers improve product quality, avoid rework and scrap costs, and protect their quality reputation. It is ideally suited for applications involving the measurement of high-specification, high-value products, such as:
Subterranean and undersea fiber optic cables
Complex armored cable
Power cable
Building wire
High-pressure hose for automobile and aerospace
And other highly demanding applications
About LaserLinc
LaserLinc, a U.S.-based manufacturer, is a leader in open, scalable measurement and process control solutions that adapt to the way you work. Our measurement systems include laser and ultrasonic-based technology. Customers use our products to measure outside diameter, ovality, wall thickness, concentricity/eccentricity, and detect product flaws. LaserLinc has extensive expertise in developing applications for the medical, communications, aerospace, automotive, oil and gas and power transmission industries.
As a 100% American-owned and operated company, LaserLinc is proud to design and manufacture its products at its headquarters in Fairborn, Ohio. All LaserLinc-manufactured products are backed by an industry-leading four-year warranty.
For more information on LaserLinc, please visit www.laserlinc.com or contact us at info@laserlinc.com.