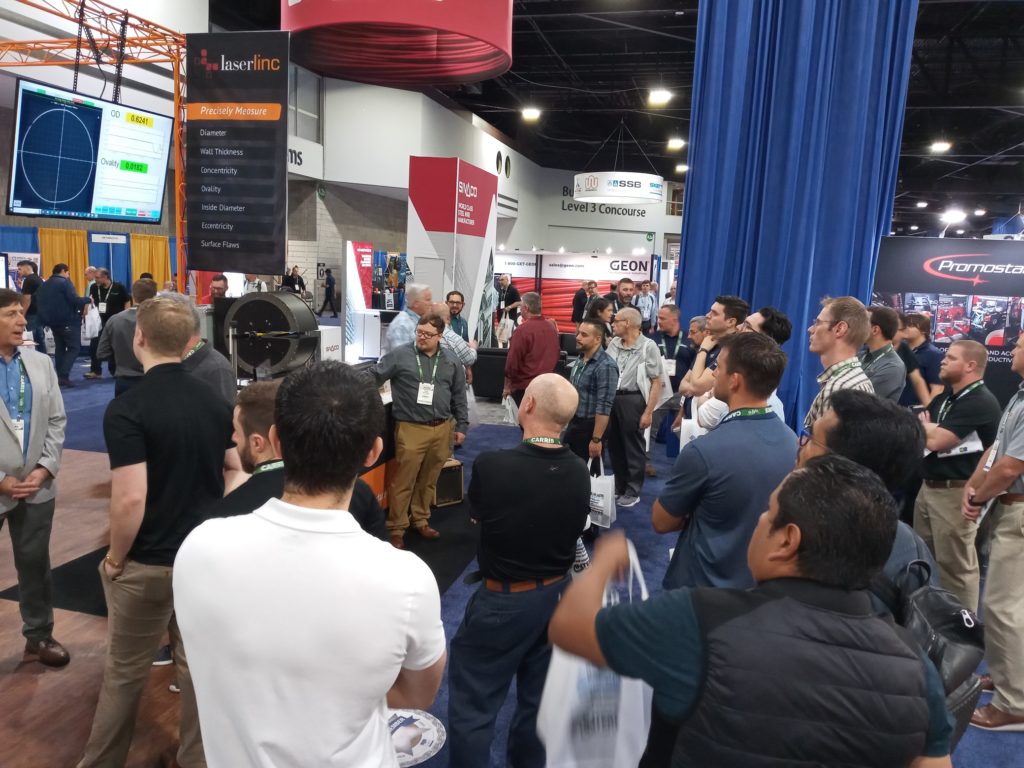 LaserLinc's Groundbreaking Solutions Steal the Spotlight at Interwire 2023, Setting a New Standard for Wire and Cable Industry Success
Revolutionary FlawSense System and Multi-Strand Solution Generate Buzz
Fairborn, OH – LaserLinc, a leader in open, scalable measurement and control solutions that adapt to the way you work, is thrilled to announce its highly successful participation at Interwire 2023. The exhibition, held from May 9 to May 11, provided LaserLinc with an exceptional platform to showcase its latest advancements and demonstrate their significant value to wire and cable manufacturers.
With over 25 years of experience in serving the industry, LaserLinc presented a comprehensive range of innovative measurement technologies designed to optimize processes and enhance product quality. The company's high-performance laser- and ultrasonic-based systems accurately measured wire and cable parameters such as diameter, ovality, insulation thickness, eccentricity, profile, and surface flaws.
A major highlight of LaserLinc's exhibition was the introduction of its revolutionary FlawSense system. This innovative solution offers true 360° in-process inspection and 3D analysis, enabling precise detection of surface defects like lumps, gels, pits, slits, and other flaws that traditional vision systems and micrometers often miss. FlawSense provided wire and cable manufacturers with a significant advantage over manual inspection methods while ensuring accurate outer diameter and ovality measurements, as well as traceability for eliminating out-of-specification products.
In addition to the FlawSense system, LaserLinc also unveiled its unique Multi-Strand solution. This software option for the Total Vu HMI allowed simultaneous multi-axis diameter and ovality measurements across multiple wire and fiber optic strands, offering 100% length inspection and flaw detection. Manufacturers benefit from reduced measurement hardware costs by assigning over 100 different strands.
Visitors to the LaserLinc booth were greatly impressed with the unique Total Vu HMI which provides comprehensive process visualization and control, enabling seamless integration with LaserLinc gauges and those from other vendors.
During the conference sessions, LaserLinc's Product Manager, Chad Walker, delivered a technical paper presentation titled "The Surface Flaw Detection Paradigm Shift: Multi-Axis to 360°." The presentation, which highlighted the capabilities and advantages of the FlawSense system, received considerable attention and positive feedback from industry experts and attendees.
Alongside these innovative solutions, LaserLinc showcased other notable brands, including the Triton™ triple-axis and Axion™ dual-axis series laser micrometers for diameter and ovality measurements, and the BenchLinc™ series of off-line sample inspection systems. BenchLinc OD provides precise, automated measurements of diameter and ovality for small, high-specification parts, while BenchLinc V offers fast and accurate diameter measurements with its unique V-block positioning feature.